Helping women grow in their faith and service to others.
If you have a question about an event or would like to be on the Women's Ministry Team, contact Denise Beutler.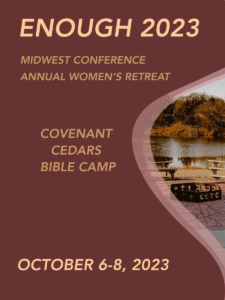 MIDWEST CONFERENCE ANNUAL WOMEN'S RETREAT
You are enough, because He is more than enough! You're invited for a weekend of being refreshed and encouraged to grow in your faith with your sisters in Christ. Through joyful worship, engaging classes, and rejuvenating fellowship, you will make meaningful and lasting connections with each other and your Heavenly Father. Don't miss this opportunity to be refreshed and renewed!